PAST / PRESENT / FUTURE
October 2022
Presented at SWEPT AWAY: A Love Letter to a Surrogate(s), curated by Warren Neidich and Christina Strassfield. This project, held on the beach of Easthampton, NY on four evenings in the Fall of 2022, was conceived to address issues of ecology and the environment. Artists on the East and West coasts were 'paired', sending each other 'love letters' (prompts) to 'create a transcontinental heartbeat across America'.
Wall hanging 39" x 34" suspended from metal armature; 20 color images 4.5" x 5" affixed to 10 wooden crosses; water basin.
Hemp; cotton laundry cording; black theatrical cord; cotton string; vintage, rusted chain; lead pyramid fishing weights; seaweed; sand dollars; oil stick; wire cord; straw rope; coffee-stained cord.
This installation began with a 'prompt' from West Coast artist, Kearra Amaya Gopee. Their short video spoke to me of a post-apocalyptic world and the concept of extinction.
I thought about extinct cultures and civilizations, and specifically the Incas, who designed the 'quipu', an arrangement of knotted cords used to communicate information. The quipu became the motif for my installation, which is comprised of natural materials and found objects, most from the Long Island coastal environment. These include seaweed, fishing weights, rusted chain, cord and hemp.

As the climate crisis worsens, extinction has become a present reality. Images of endangered or extinct species were affixed to white crosses speaking to that reality.
Viewers were invited to take one of the images (printed on water soluble paper) and submerge it in a pool of seawater and in so doing, experience what the future may hold. The gradual disappearance of the paper was photographed, creating new 'water collages'.
________________________________________
WHEN WILL IT END
2019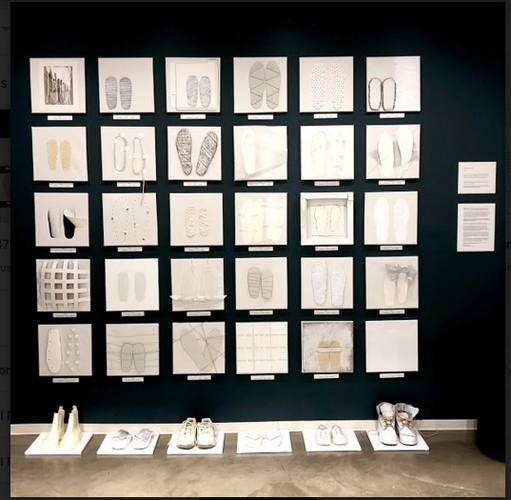 canvas, mesh, gauze, oil stick, chalk, corrugated cardboard, photographs, burlap, string, oil paint, wire, newsprint, clay, lifesavers, rice, vellum, aluminum foil, sugar cubes, twine, charcoal, tape, thumbtacks, rice paper, ink, safety pins

36 collages, each 12" x 12"; currently configured to be approximately 6' high x 7' wide on wall, plus 1' x 7' on floor
WHEN WILL IT END is the artist's visual response to gun violence and mass shootings. Every day, 100 Americans are killed with guns and hundreds more are shot and injured. In 2019, nearly 40,000 people died from guns in the U.S.
Following the terrorist attacks in Christchurch, New Zealand in March, 2019, pairs of white shoes were laid out in memory of the victims. The strength of that metaphor, with its historical ties to prior shootings and the ghostly remnants of the Holocaust, contributed to the visual motif of this wall collage. The number of the individual canvases loosely represents the deadliest mass shootings in modern U.S. history (1949 to present). The humble mediums suggest the commonplace and the familiar, as these atrocities have become.
Viewers are invited to place additional pairs of white shoes at the base of the installation as a statement to legislators and politicians.